A great friend of Love INC has purchased the property and given us a five year lease with an option to purchase. Each portion of our monthly rent check that is applied to the principle pays down our balance owed! Isn't that an amazing blessing?
Thank you to everyone for your continued prayers, financial contributions, donated professional services, physical labor, and verbal encouragement. We are making progress in our move to this new ministry facility: The medical equipment was moved Saturday April 30th from the Mennonite Village shop bay to our new shop by a hardy group of volunteers thanks to a gracious last minute donation of the use of a moving truck from Team Pendley, thank you Christie! Work has also begun to make the new building code com-pliant so our Clearinghouse can begin operations in the new location as well. Office equipment will be moved on Saturday June 25th.
Donations as well as continued requests have already been reaching us for the career closet to be opened at the new house. Excited conversations about cooking classes for food box recipients, budgeting classes, and other life skills classes can be heard daily.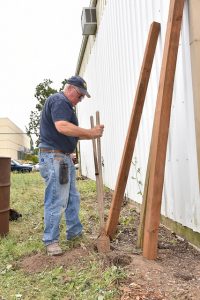 In addition volunteers from Serve INC spruced up of the property as part of their day of service on July 9th! (Included images are from the ServeINC project. Photos by Don David.)
Thank you Church for this opportunity to be a part of your expanding ministry assisting in the release of our friends currently trapped in the grips of poverty… The Spirit of the Lord is upon me, because he hath anointed me to preach the gospel to the poor; he hath sent me to heal the brokenhearted, to preach deliverance to the captives, and recovering of sight to the blind, to set at liberty them that are bruised, to preach the acceptable year of the Lord. Luke 4:18-19
We must all work together to pursue this vision of expanded ministry to the poor. In addition to paying off the property, operational costs will increase, and additional volunteers will be needed to stock and staff the career closet and help teach the life skills classes. May many more know the transforming love of Christ through His mobilized Church.